Sunday School (Preschool & Pre-K)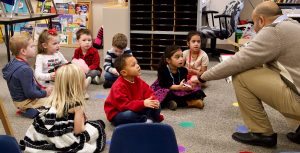 2020-21 Faith Formation – Together in Faith – Registration
For the 2020-21 academic year, we are excited to offer Together in Faith, an At–Home Faith Formation model for all Youth Faith Formation programs. The focus for this year will be for the household to learn and grow in their faith together. Each month will have a new theme as we explore the New Testament of the bible.
To learn more and to register, visit:
---
The exciting lessons in Sunday School are planned to help your Preschool and Pre-K child(ren) learn about Jesus and His Church. The Sunday School program uses the Allelu! curriculum from Our Sunday Visitor. Allelu! takes a Christ-centered, hands-on approach to learning using strong Catholic teachings. Lessons include stories, music, prayer, crafts, games, and activities. It also includes a take-home piece to aid in further discussion with your family outside of the classroom. Allelu! has a great website that you can access to learn more about the curriculum at www.allelu.com.
Sunday School takes place September through April from 9:30-10:30 a.m. following the school calendar. Students must be the appropriate age by September 15, 2020 (age 3/Preschool or age 4/Pre-K) and must be toilet-trained.
---
Special Classroom Helpers
In order for you to share in the experience of Sunday School with your children, we will ask you to serve as a "special helper" in your child(ren)'s classroom twice during the year. This opportunity is open to parents, grandparents, aunts/uncles, a special neighbor, or siblings over the age of 16. We believe this experience will help you grow closer to your child(ren) as they grow in their faith and it will also help our dedicated Sunday School catechists by having some extra helping hands on a regular basis. A sign-up link will be provided at the beginning of the school year.
---
Volunteer Opportunities
Our Youth Faith Formation programs rely on parents, families, and parishioners as volunteers to support our children as they grow in their faith. Each of the volunteer roles are either 100% tuition-waived or 50% tuition-waived.
---
For information about the other Youth Faith Formation programs, please visit:
For information about the High School Faith Formation programs, including Confirmation preparation, please visit:
For more information about Sunday School or if you are interested in volunteering, please contact Jill Klubek-Alonzo, Early Childhood Faith Formation Coordinator, by email or at 515-440-1030.