z2020-21 Registration – Together in Faith
2020-21 Faith Formation Registration Information – Together in Faith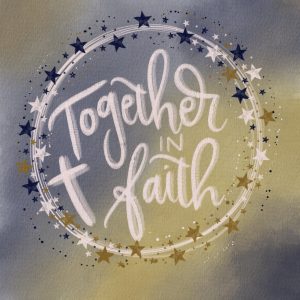 This year, we are changing the model for Youth and High School Faith Formation and inviting the entire parish community of St. Francis of Assisi to join us. Every single household is welcome to participate! This will be the year for everyone in the same home to learn and grow in their faith TOGETHER!
Each month will have a new theme. Age-appropriate activities related to this theme will be available for all ranging from infant/toddler through adult.
---
Quick Links
---
How does Together in Faith work?
Each month, households will GATHER virtually for Live from Assisi: Home Edition for the monthly virtual kick-off event. That month's theme will be introduced plus praise and worship music, an activity that the household will complete together, a St. Francis update, and closing out the live event will be Q&A with the priests.
Additional opportunities to GATHER include joining us for the Live from Assisi: Worship hour for prayer and participating in Live from Assisi: Adult edition, where adults can listen to and discuss a short video by a national speaker on the month's theme. Your family can also reflect on the Good News with Sunday reading reflections for children, teens & adults. To stay connected, we will have an SFA encounter so households can share what they are doing!
Throughout the rest of the month, we invite households/families to GROW in their faith by completing 2-3 activities that reinforce the month's theme. Suggested activities will be provided to engage household members for all ages from infant/toddler to adult. Your family chooses which ones to complete based on the ages and interests of your household members.
We also invite you to GO FORTH and serve the Lord, sing His praises, meet the Saints, and live your faith with additional resources and opportunities provided. Your household/family chooses which opportunities are of interest.
We will have virtual social events and weekly virtual small groups for our EDGE (junior high) and FISH (high school) youth
We are also exploring options for optional in-person gatherings. More information to come.
Together in Faith Info Meeting Replay 10/7/2020
Schedule
Info/Parent Virtual Meeting will be held on October 7 at 6:30pm to go over Together in Faith program details and answer any questions. If you are not currently registered in Together in Faith but would like to attend to learn more, please contact Vivian Day at vday@saintfrancischurch.org for the Zoom link.
Together in Faith Kickoff Date: Wednesday, October 14
| | |
| --- | --- |
| Live from Assisi: Home Edition | Takes place every 2nd Wednesday of each month at 6:30pm. Together in Faith households will gather virtually to learn about and start to put into action that month's theme.  *Interpreted in ASL |
| Live from Assisi: Adult Edition | Takes place every 3rd Wednesday of each month at 6:30pm. Adults will gather virtually to hear a national speaker and a discussion will follow afterward. |
| Live from Assisi: Worship Edition | All will gather every 3rd Sunday of each month at 5:00pm to pray together. Each month we will experience a different prayer. *Interpreted in ASL |
| EDGE & FISH Small Groups | EDGE (Junior High) & FISH (High School) will gather every Wednesday at 7:30pm for a virtual small group discussion. Groups will be age and gender-based and last 30mins. |
Together in Faith Virtual Events Schedule (PDF)
Special Needs Ministry
Our Special Needs Ministry will be making adaptions/modifications as needed for the Together in Faith program. If you have participated in past Faith Formation activities, we will be reaching out with adaption details based upon your needs. If would like to learn more about the adaptions offered by the Special Needs Ministry, please contact Sarah Drey, Assistant Director of Youth Faith Formation.
Sacrament Preparation
First Reconciliation/First Communion: Preparation will be included in Together in Faith with activities for the child and family to complete together. There will also be a parent meeting and retreat to prepare for each sacrament. Schedule available soon.
Confirmation: Preparation typically takes place during 9th grade and the Sacrament is celebrated during the fall of 10th grade. Confirmation Preparation is separate from Together in Faith. Visit High School Faith Formation for more information.
---
Cost
The cost of Together in Faith is $130 per household/family.
Fee Assistance
Fee Assistance and payment plan options are available. Through the generous contributions of parishioners, a fund has been made available for the parish families in need of assistance with the fee for the Faith Formation programs.  Click here for the Faith Formation Fee Assistance Application. Please register your household/family for Together in Faith and also fill-out the online fee assistance/payment plan application.
Payment
To make a payment for Together in Faith, visit FACTS.
All payments will be billed through FACTS. A few weeks after registration, you will receive a bill through FACTS. If you do not have a SFA FACTS account, please review FACTS Instructions (PDF) for the steps.
---
---
For more information or questions, please contact the Faith Formation office at 515-440-1030 or yff@saintfrancischurch.org.