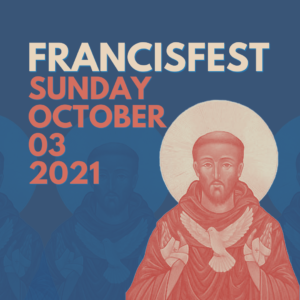 Join us for our annual parish celebration!
Saturday, October 2, 2021
Time & Location
Details
Dinner & Dance
5:30 p.m. -10:00 p.m.
Parish Hall
Tailgate-themed buffet dinner and open bar served by the Knights of Columbus. Saints & Sinners band will play at 7 p.m.
$25 per person. Buy tickets here.
Sunday, October 3, 2021
Mass
7:30 a.m., 9:30 a.m., & 11:30 a.m.
Sanctuary
Together we will celebrate Mass with a special 30th anniversary recognition of our parishioners.
Lunch
12:30 p.m. – 2:30 p.m.
Parish Hall
$10 Adults, $5 Kids
Special thank you to the Scouts BSA Troop 888 for providing pulled pork, grilled chicken, chicken nuggets, pizza, and additional sides.
Activities
1:30 p.m. – 4:30 p.m.
Football Field
(Rainout location – School Gym)
FREE kids inflatables, games, tattoos, soccer with Fr. John and more.
FREE cake walk, wine walk, photo booth, lawn games, treats, and more.
FREE drinks at McHenry's Pub, special thank you to Knights of Columbus for hosting.
St. Francis Olympics
2:30 – 3:30 p.m.
Football Field
(Rainout location – School Cafeteria)
Teams of 4-6 adults will compete in a tournament of games for Gold, Silver, Bronze, and "Best in Show". Tournament details and registration listed below.
Blessing of Pets
4:30 p.m.
North Circle Drive
Join us with your pets as we celebrate the end of FrancisFest.
We would appreciate it if all pets are leashed, contained, or caged so they can co-exist with the other guests.
St. Francis Olympics
The SFA Olympics is a NEW event this year. The tournament was formed by Garrett Hill, who will introduce the teams, facilitate the games, score the teams, and award the players. This event is for adults who can grab a refreshment from McHenry's pub and enjoy some competition and fun with their community. So grab your friends and register your team today!
The Tournament
2:30 p.m.
Check-in with Garrett Hill near McHenry's pub.
2:40 p.m.
Tournament begins
Event I: Rock, Paper, Sissors
Event II: Water Balloon Toss
Event III: Leaning Tower of Feetza
Event IV: Speed Walking Relay
3:15 p.m.
Awards Ceremony
Team scores will be totaled during the closing ceremony and awarded.

1st = 15 pts
2nd = 10 pts
3rd = 5 pts

Don't forget! Team aesthetics is crucial in competition. The best dressed team will be awarded "Best in Show".
Team Details
4-6 people per team
Each event requires 4 people, teams of 6 will rotate teammates during events
Players must be 18+
Players must be aware that water will be used in the events
Register your team today! Registration is limited to 8 teams but if space is available teams can sign up the day of the event.