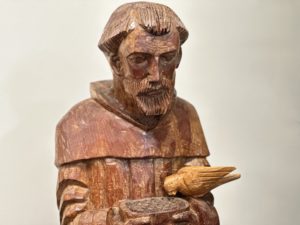 ---
Saint Francis was born in 1181 in the town of Assisi, about 80 miles from Rome. Francis aspired to be a knight. At age 19, he was called to go to war to defend Assisi from the neighboring town of Perugia. He was captured and put in prison. While in prison, he became quite sick. This long illness caused him to think a lot about his life and he felt something important was missing.
Discovering God's Call
He went back to the battles of war, but was still uneasy about the direction his life was going. One day, Francis visited the abandoned church of San Damiano. He heard a voice coming from the cross hanging over the altar. Francis thought he heard a plea for him to rebuild the rundown church. He started rebuilding the brick and mortar church. His father was angry with him because Francis was using family money to rebuild the church. He took Francis to the public square in Assisi and asked the local bishop to demand that Francis give up this project. Francis took off his very fine clothes and renounced all his possessions and inheritance. He wanted to give his whole life to God.
Francis realized that the call to rebuild the church was not just a job of bricks and mortar. Francis knew that he was being called to give new direction to the Church in its spiritual life. From then on, Francis began preaching and teaching about God. He formed a small community of brothers to assist him in his missionary work. Francis became a greater lover of the gifts of creation that so beautifully surrounded Assisi. He was a strong advocate of peace among all peoples. He sought to be present to the poor and the sick.
Francis died in 1226, having left a dramatic mark on the whole of Christianity. He continues to be one of the most well-known saints.