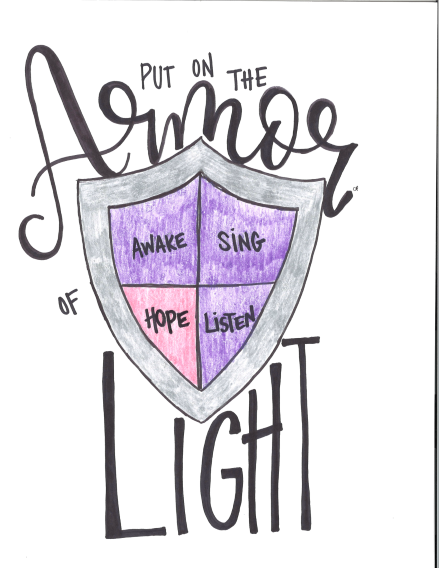 Join our parish community as we celebrate our Advent theme – Put on the Armor of Light.
First Week of Advent – AWAKE!
"Therefore, stay awake! For you do not know on which day your Lord will come." Matthew 24:42
Awaken your family this Advent by creating a family shield reflecting your Advent plans.
Dec 3 – Communal Penance Service at 7 p.m.
Dec 5 – Advent Taize Prayer Service at 7 p.m.
Second Week of Advent – SING!
"Sing praises to your name!" Romans 15:9
Sing a song for Mary during your family prayer time this week.
Dec 8 – St. Nicholas visit after Sunday Masses
Dec 8 – Lessons and Carols at 7 p.m.
Dec 14 – Meals from the Heartland packaging event at 9 a.m.
Third Week of Advent – HOPE!
"Be strong, fear not! Here is your God!" Isaiah 35:4
How can your family share the hope of Christ with others this week?
Dec 15 – Advent by Candlelight at 6:30 p.m.
Fourth Week of Advent – LISTEN!
"Listen, O house of David!" Isaiah 7:13
Listen to the Infancy Narrative (Matthew 1:18-24) around your Advent wreath this week.