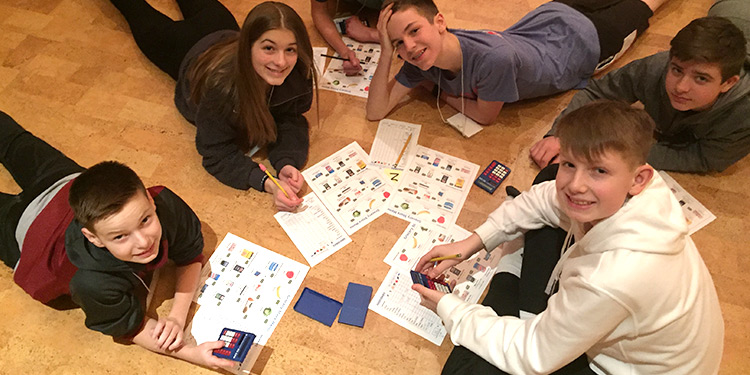 EDGE is our parish's youth ministry program for all 7th & 8th grade youth of our parish who attend public, private, and home schools. This is a program where our youth can learn about their faith, find a Catholic community, and experience Jesus all while having fun and serving others. As young adolescents are moving from a child-like spirituality, it is our goal with EDGE to help them develop an adult faith commitment to Jesus Christ and the Catholic Community.
---
EDGE Program Areas
Faith Formation
These EDGE nights will help our youth learn and grow in their Catholic faith. The themes of the nights will be catechetical, issue, or social nights. EDGE uses small group discussion for our youth to ask questions as they learn about about the topic of the night. We have discovered with our EDGE youth, that small groups that are gender and grade specific yield more fruitful discussion.
Two sessions are offered:
4:30 – 5:45 pm
6:15 – 7:30 pm
Registration is required through Youth Faith Formation for the school year. When registering, please choose the correct grade and gender for your child.
Social Events
These events will be offered to create a community for our youth. These will be on-site at Saint Francis or off-site and offered throughout the year. Online registration is required for each event.
Service Opportunities
These opportunities will be held throughout the year to help our youth put their faith into action. Space may be limited depending on the opportunity. Online registration is required for each opportunity.
Spiritual Activities
These activities will give our youth the opportunity to deepen and learn more about their Catholic faith throughout the year. Online registration is required for each activity.
---
More about EDGE
The name EDGE recognizes that middle school youth are on the EDGE in their life, and if we as a church don't do something about it, they're going to fall off the EDGE and we are never ever going to see them again. But, at the same time we as a church are going to give them the EDGE they need in life, Jesus Christ, the Sacraments, Sacred Scripture, the Teaching of the Roman Catholic Church, and a Catholic Community to love, nurture and challenge them.
Our Youth Faith Formation programs rely on parents, families and parishioners as volunteers to support our children as they grow in their faith. Each of the volunteer roles are either 100% Tuition Waived or 50% Tuition Refunded. If you are interesting in learning more about the volunteer opportunities, please contact the parish.
For more information about EDGE or any of the program areas, contact EDGE Coordinator, Sarah Drey at (515) 440-1030.