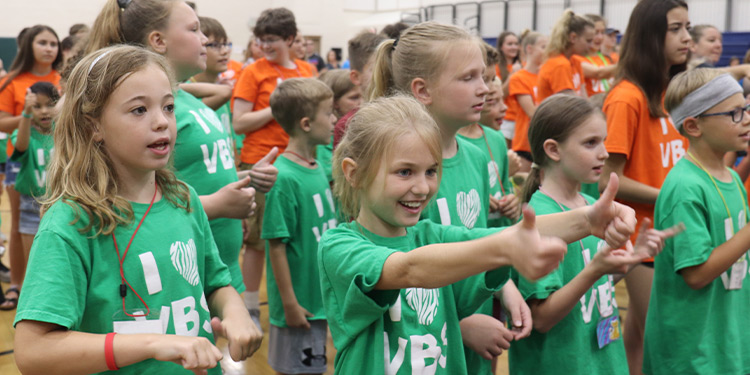 At Vacation Bible School, children will spend each morning learning the daily bible point by singing songs, exploring a bible story, playing games, being imaginative, and learning about their Catholic faith all while having fun!
---
Vacation Bible School 2020
Due to the extraordinary circumstances, we are all faced with during this time, we have made the heartbreaking decision to cancel VBS for this Summer 2020.  We will miss all the smiling faces, singing, and the joy that all the children bring during the week of VBS.  This was not an easy decision, but one that we felt was the best for our volunteers and community.  We will see you in June 2021 for Rocky Railroad VBS!

SAVE THE DATE!
June 21- 25, 2021
For Children 3years old through 5th grade in Fall 2021
---
Adult & Youth Volunteers Needed
We will be looking for adult and youth volunteers for the 2021 Rocky Railway VBS!
If you have any questions about Vacation Bible School or are interested in volunteering, please contact VBS Coordinators, Michelle Hershberger and Holli Wilson, at vbs@saintfrancischurch.org or call the Faith Formation Office at 515-440-1030.