High School Faith Formation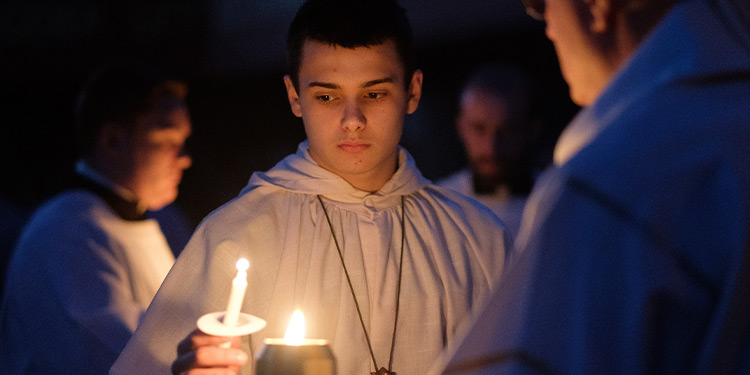 High School Faith Formation serves all of our parish's students in grades 9-12. The programs that make up HSFF serve students from five area high schools and include Confirmation preparation, Fellowship in Spirit with Him (FISH) and other various diocesan and parish programs throughout the year.
Registration will open April 8 for the 2019/2020 academic year for Confirmation Preparation and FISH.
Fees for Confirmation Preparation are $55 per student
Fees for FISH are $65 per student
---
Adult Volunteers Needed
Adults can volunteer in various ways including:
FISH small group leaders
Confirmation small group leaders
HSFF event support
Youth and High School Faith Formation Advisory Team
The purpose of the Youth and High School Faith Formation Advisory Team is to develop a multifaceted approach to faith formation by identifying, creating, and offering a variety of resources and opportunities for youth and family faith formation. To learn more please call the Faith Formation Office.
---
Sacrament
Confirmation Preparation
Students receive the Sacrament of Confirmation during the fall of their sophomore year. Formation takes place during their freshman year.
Ninth-grade students attend six small group preparation sessions designed to help the students strengthen their own faith lives
Small groups meet on the first Wednesday during the months of September, October, November, February, March, and April
Before attending their first session, students are asked to complete their Faith HABITS worksheet (PDF)
Students register the summer prior to their ninth-grade year
2019-2020 Confirmation Small Group Schedule
| Date | Time |
| --- | --- |
| Wednesday, September 4 | 7:15 – 8:30 pm |
| Wednesday, October 2 | 7:15 – 8:30 pm |
| Wednesday, November 6 | 7:15 – 8:30 pm |
| Wednesday, February 5 | 7:15 – 8:30 pm |
| Wednesday, March 4 | 7:15 – 8:30 pm |
| Wednesday, April 1 | 7:15 – 8:30 pm |
---
Youth Ministry
Fellowship in Spirit with Him (FISH)
FISH is our high school youth ministry program open to ALL 9-12 grade students.
When is FISH?
2nd, 3rd, & 4th Wednesday of the month September through April
In the 2019/2020 school year, the students will be invited to share in the opportunity to grow in their faith and become better acquainted with the Gospels as we follow the Alpha Youth series; included each week is the chance to share a meal together and discuss issues about our faith. The Alpha Youth series mirrors the Alpha series being offered to adults in our parish. You can learn more about Alpha Youth here (https://alphausa.org/alpha-youth-series). Each month students will also be invited to take part in service opportunities, social events, and other faith building events outside of Wednesday nights.
Upcoming Dates
FISH: Wednesday, March 13 & 27
8th Grade Parent Meeting for 2020 Confirmation, Tuesday, March 26, 6 pm