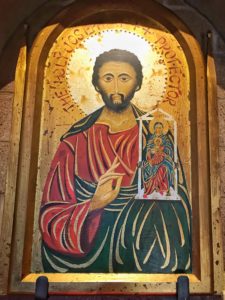 On December 8, 2020, Pope Francis proclaimed a special "Year of Saint Joseph," extending to the Solemnity of the Immaculate Conception on December 8, 2021. For more information, read the Apostolic letter from Pope Francis.
Why Turn to St. Joseph?
In these challenging times, we can turn to St. Joseph with great hope:
We can turn to him as protector from harm, even as he protected Mary and the child Jesus from Herod's wrath;
St. Joseph was the worker and provider for the Holy Family, so to him we can entrust ourselves and our nation in the face of unprecedented unemployment and economic distress;
As model husband and father, we turn to St. Joseph at a time when good examples of both are so desperately needed. We can ask him to help strengthen our families – as well as the bonds of our "parish family" – at a time when these can be fragile;
As patron of the dying, we can invoke the intercession of St. Joseph on all who are in their last moments of life, including the elderly and others with terminal disease.
---
Celebrating at St. Francis Parish
As a parish community, we plan to celebrate this special time by honoring St. Joseph throughout the upcoming year. There will be a parish-wide book study, opportunity for personal consecration, and occasions for special prayer and spiritual enrichment. Please follow us on YouTube and social media for additional information and resources.
---
Get Involved
Pray.

Please cover this initiative in your prayers!

Organize a small group.

Create your own St. Joseph consecration group by inviting people you know or any small groups you are already part of.

Be a small group leader.

Volunteer to lead a small group for those who may not be as connected in the parish. Meetings can be held in-person or virtually and can be scheduled around your availability.

Spread the word.

Please share this opportunity with friends and family.

Donate your time or resources.

We are looking for volunteers and donations of food/money for the Consecration Celebration.
Have More Questions?
Read our FAQ's or check out the resources listed below.
---
Helpful Resources
St. Joseph Prayer Book
Children's Book
Year of St. Joseph
Consecration to St. Joseph
---
St. Joseph Playlist
St. Francis' Director of LIturgy and Music, Emily, found this playlist dedicated to St. Joseph of Spotify. With a mix of secular and Christian music, the playlist expresses the story and spirituality of St. Joseph. This playlist is great as background music, to pray with, or use to jam out in your car.