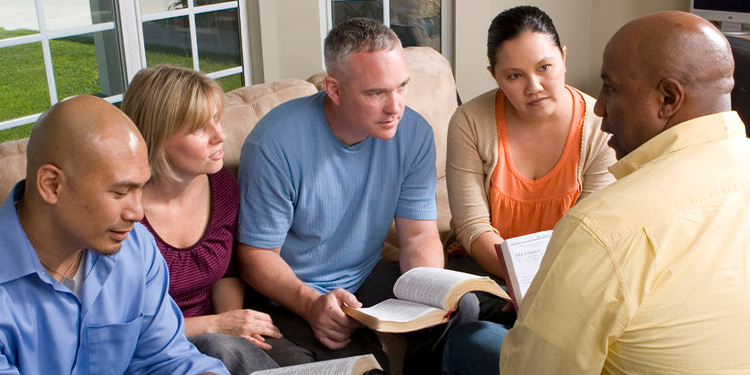 Study Groups
Tuesdays
Elements of the Catholic Mass
Develop a greater understanding and better appreciation of the beauty of the Mass.
Begins Jan 14, 9-11 am, Serra Room
Wednesdays
Good News People
A Catechism-based study of the virtues with a call to action. Each session includes Scripture, inspirational readings and reflections, Church teaching, and stories of faith.
Begins Jan 15, 9:45-11:45am, Serra Room
---
Small Group & Individual Studies
The Adult Faith Office has a variety of study materials available to checkout for individual and small group use.
How – Come to the Adult Faith Office to check out available DVDs and leader's materials.
Where – You arrange for a location that works for you or your group – home, coffee shop, library, etc.
Cost – No cost for use of DVDs or leader's materials. However, you must order and purchase participant materials from the publisher.
Call (515) 440-1030 or stop in to check availability.
View or print the list of studies (PDF)
---
Special Studies
Natural Family Planning
Coordinators: Kerry & Renee McGuire. For more information, contact the parish office at (515) 223-4577.
Search and register for class times
---
Online Studies
FORMED
FORMED offers digital faith formation on demand for all ages including Catholic videos, audio books, e-books and study programs. To access, go to Formed.org, and create an account as a member of St. Francis of Assisi.
Ascension
Groups of two or more can start a Bible study or faith formation program anywhere, anytime.
10 Gifts of the Catholic Faith
Video-based sessions available online. From the Archdiocese of Dubuque.
View and print discussion materials
Elements of the Mass
Video episodes to help you know and love the liturgy more. From Liturgicalinstitute.org.
---
Faith Journey – The Catechetical Institute
The mission of Faith Journey – The Catechetical Institute, sponsored by the Diocese of Des Moines, is to further students' spiritual formation and deepen their understanding of the Catholic faith. The heart of the curriculum is based on the four pillars of the Catechism of the Catholic Church and provides a systematic presentation of the Catholic faith. Click here to view a video featuring people who have previously participated in this program.
For more information, contact John Huynh at jhuynh@dmdiocese.org or (515) 237-5006.
More Information & Registration
---
Certificate in Theology and Ministry
Are you interested in deepening your knowledge of the Catholic faith? Do you want to enhance your pastoral skills? The Certificate in Theology and Ministry may be right for you! This program of academic and pastoral development consists of a series of courses delivered digitally over the course of one year. This means you can participate on your schedule. Co-sponsored by the St. Joseph Educational Center and Creighton University.
For more information, call Tom Quinlan at (515) 222-1084 or tquinlan@sjeciowa.org or visit http://sjeciowa.org/creighton-certificate-program/