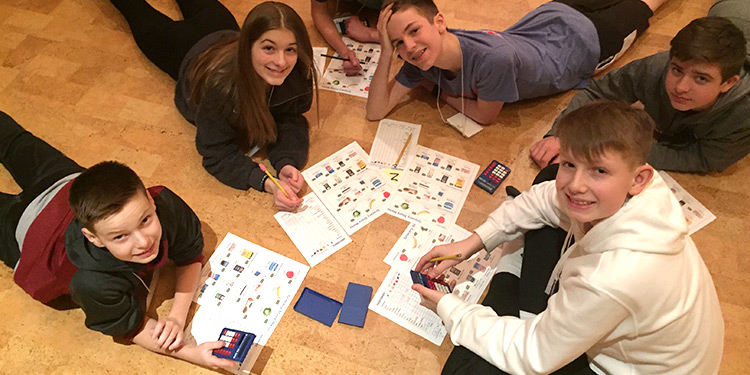 Youth Ministry is a program for all 7th-12th grade youth of our parish who attend public, private, and home schools. This is a program where our youth can learn about their faith, find a Catholic community, and experience Jesus all while having fun and serving others.
Registration
Online registration for 2021-2022 is closed as we prepare the online registration for 2022-2023, however, we still welcome students to join the Youth Ministry program. Please contact the Faith Formation Office at 515-440-1030 to register for Youth Ministry or discuss other Faith Formation needs.
The Youth Ministry fee is $50 per student.
Please note that Youth Ministry and the Preparation for the Sacrament of Confirmation are different programs.
Helpful Links
Faith Formation Volunteer Opportunities
FACTS (For Faith Formation Payment)
---
Youth Ministry Areas
EDGE
EDGE is our youth ministry program for 7th & 8th grade students. They will typically meet the 2nd, 3rd and 4th Wednesday of the month from 5:30pm-7:00pm for small group formation. We will be using LifeTeen curriculum and will consist of Catechetical, Hot Topic, and Relational Social Nights. Deacon Bill share communications weekly on what the upcoming night will look like.
FISH (Fellowship in Spirit with Him)
FISH is our youth ministry program for 9th through 12th grade students. They will typically meet each Wednesday of the month for small group formation and community building.
The three goals of FISH are to:
invite and empower our teens to be a part of the St. Francis Community, to
help our young people develop a personal relationship with Jesus
have fun!
Evening formats will be Life Night, Issue Night or a Social Relational Night. Topic & materials will come from LifeTeen curriculum. Deacon Bill communicate weekly with an overview of the upcoming session.
We are in need of small group facilitators. Please contact Deacon Bill Richer, Interim Youth Ministry Coordinator, at 515-440-1030 if interested in volunteering.
---
Youth Mass
On the third Sunday each month, the youth host mass at 4:30 p.m. This is a great opportunity for youth to serve in a liturgical role. Please contact, Emily Schmid, Director of Liturgy & Music, at 515-223-4577 if you would like to volunteer.