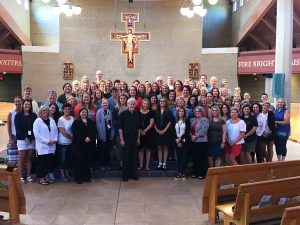 Job Openings
Parish
---
School
Substitute Teachers
If you are a teacher, or have a substitute license, and would like to start subbing at our school, please call the School Office at 515-457-7167 or stop by for an application.
Kids Care
Our Kids Care programs (School Age, Early Childhood Extension, and Summer Camp) provide a Christ-centered, safe, and nurturing environment for school-age and early childhood students when they are not in session at St. Francis of Assisi School or Preschool. Kids Care is an Iowa DHS-certified program.
Wrap Around Assistant Teacher (Part-Time)
St. Francis Kids Care Early Childhood provides care for our Preschool students when they do not have class. Assistant Teacher duties include: Supervise and monitor children; assist the lead teacher; clean and sanitize daily; and cultivate positive relationships with families, director, and other teachers. For more information, click here.
Part-Time Staff
This is a Kids Care before- and after-school program for children from 3 years old – 8th grade. We provide a fun and loving atmosphere for the students of St. Francis. Kids Care staff duties include interacting with students, assisting with homework, carrying out light cleaning, and leading groups on field trips. For more information, click here.