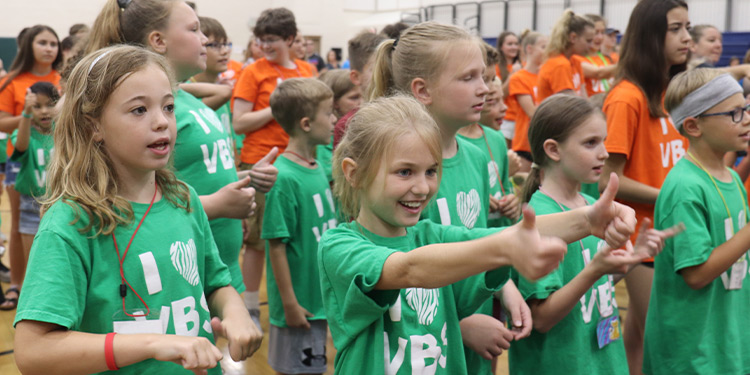 ---
At Vacation Bible School, children will spend each morning learning the daily Bible point by singing songs, exploring a Bible story, playing games, being imaginative, and learning about their Catholic faith – all while having fun!
Vacation Bible School 2023
Mark your calendar for VBS 2023: June 26-30, 2023! It is going to be out of this world!
VBS participants 4 years old to 5th grade blast off each morning at 9am and return to Earth at noon.
Cost is $50 per participant. It's $10 more if you'd like a CD of this year's music. Fee assistance is available.
Registration is closed for the event. 
---
Adult & Youth Volunteers Needed for 2023 VBS
VBS is a fun and important part of our catechetical mission at St. Francis and we cannot offer this wonderful program without the help of volunteers. We are currently seeking adults to join the Core Team as Station Leaders (Bible Stories, Games, KidVid, Imagination Station, etc.). Detailed manuals for each station are provided. We are also seeking adult and youth volunteers who would like to help children learn about Jesus in an exciting way. To register as a VBS volunteer, please complete the VBS Volunteer Form.
If you are interested in being a Station Leader for 2023, please email VBS Coordinators Holly & Ali or call the Faith Formation Office at 515-440-1030.