By Janet Bradford, St. Francis parishioner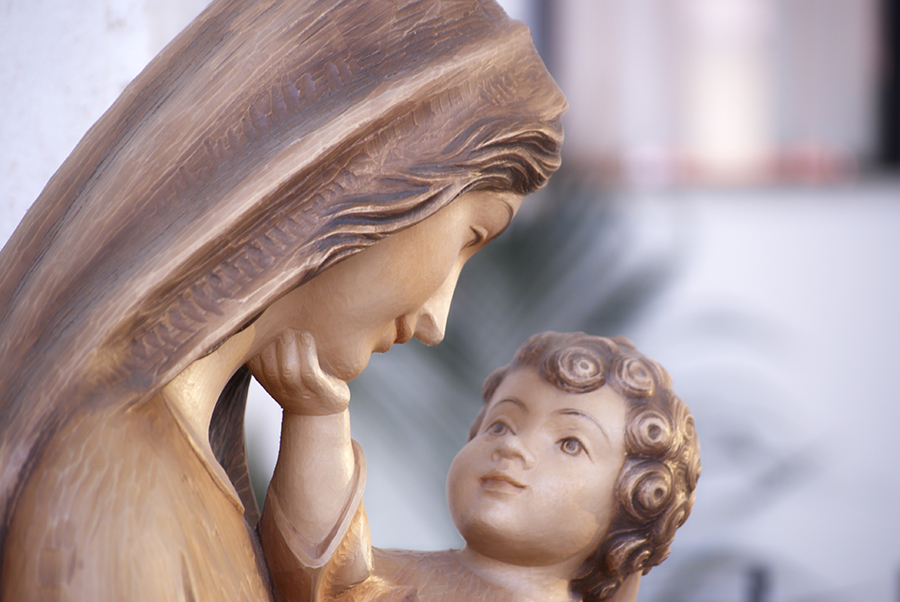 December and January have me in Mary Mother of God mode. She emits a special grace filled aura during the Christmas Season and the Feast Day of The Blessed Virgin Mary that radiates all over the world. I thought to post a sliver of my journey consecrating myself to her.
An excerpt from my journal Fall of 2018
Today is Day 4 of my consecration to Mary. "First in regard to others, if we give Mary the right to dispose of the graces of our good works, then this means we cannot unconditionally apply such graces to whomever we choose. So, for instance, if I make such an offering to Mary, I cannot insist that the graces from a sickness I am offering up go to the person I want them applied to.
Second in regard to ourselves, if we consecrate ourselves to Mary then when we die we won't get to appear before God clothed with the merits of our prayers and good works. In fact, we'll have to appear before God with empty hands because we will have given all our merits to Mary." Michael E. Gaitley, MIC 33 Days to Morning Glory, page 39.
This is very radical. Having nothing before God when I die because I gave it all to her. I am to be doing spiritual and corporal acts of mercy all my life. We all are. James 2:14-26 lays it all out. Faith plus works. My works alone don't earn me heaven but neither does faith all by itself. But what is this that I surrender them all to Mary? Was I not suppose to stand before God someday and every single work I have ever done be accounted for?
Saint Louis de Montfort says in his book True Devotion To Mary his consecration prayer: "I deliver and consecrate to you, as your slave my body and soul, my goods, both interior and exterior, and even the value of all my good actions, past, present and future; leaving to thee the entire and full right of disposing of me, and all that belongs to me without exception according to thy good pleasure, for the greater glory of God in time and in eternity."
Maybe it is similar to when my Mother was dying of pancreatic cancer. I gave myself completely to her. When she wanted to sort through and divvy up her earthly treasures, I did it immediately. When she asked me to take a shower with her because she was too weak to clean herself, I stripped down and stepped in without protest. My schedule was her schedule. When it was time for her to eat or take her meds I stopped whatever it was I was doing and did it. I slept in a chair by her bed in the family room. My heart was so in tune with hers that I was awake with feet planted on the floor without remembering her stirrings waking me up. In my exhaustion, I sat there with her wordless, soul-quiet, peacefully surrendering my will while she sat there nauseous holding a vomit tray or struggling to walk to the bathroom to pee. In my exhaustion, hunger and grief, I gave myself to her. That is the closest thing to a willing slave I have ever been except for when our daughter was born and my tending to her early months of basic needs.
I knew my Mother unconditionally loved me so I trusted myself to her. How much more then I can trust Mary Mother of God? I surrendered my will completely. I wasn't resentful when I journeyed death with my Mom. My free will was not violated. At anytime I could have said "Done." But something deep and spiritually beautiful was happening to both of us during that time. The graces showered upon us were free flowing and never ending. I felt a holy peaceful gentle presence the entire time I was with her. That has always been the hallmark presence of Mary. I was a witness while participating in not only Mom's final moments of breath, but also experiencing my complete surrender to her and her earthly needs realizing it was a co-surrender to Mary as she prepared Mom to be presented to Jesus. It was truly beautiful.
I remember the day before my wedding how I festered all day long, longing for my Dad to tell me he loved me. Once married I would leave my childhood home in Midwest Illinois and the comfort of family where I knew I was deeply loved and begin the long drive to the Wild West state of South Dakota to begin our new life. I knew nobody there. A sojourner in a foreign land. I was scared. I needed reassurance. When he finally spoke to me it was in criticism on my method of cleaning the kitchen cabinets because I cleaned them in a way he specifically said not to because it would damage the finish. I exploded in anger calling him a disrespectful name. Ugh… the hurt in his eyes. I stormed off to my bedroom as the anger dissipated to be replaced by guilt. I wanted to take those words back. My Mom eventually came downstairs, sat beside me on the bed and translated Dad's love language, explaining how he loved me by mowing the grass, setting up tables for the guests, beautifying the property for my special day. She shared tenderly quoting Psalms 17:8 "I was the apple of his eye." I would have never known if it weren't for my Mother.
That is what Mary wants to do for me-for us — draw us to Jesus who then reveals the Father's bottomless merciful unconditional love for us. Mary and Jesus working together with our simple consent of desire and goodwill. Trusting her with our prayers and good works to be efficaciously distributed to all souls. "If we've given her everything, is there any doubt that she'll be generous in giving whatever good we ask for those who are dear to us?" 33 Days to Morning Glory, page 42.
I need not worry. I will just step out of the way and let her have me!