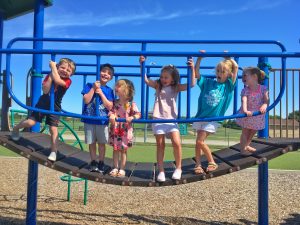 Here at St. Francis, our Kids Care program (School Age and Early Childhood Extensions) provides a Christ-centered, safe, and nurturing environment for school-age and early childhood students when they are not in session at St. Francis of Assisi School or Preschool. Kids Care is an Iowa DHS certified program.
We encourage ongoing social, creative and physical development through age-appropriate, engaging and fun activities in a structured yet flexible routine.
Students attending Kids Care in the morning are offered a nutritional breakfast, and a healthy snack is given to all children after school. There is a monthly snack calendar sent out to all parents.
During their time at Kids Care, school age children participate in age-appropriate activities: crafts, manipulative table toys, and large motor either in the gym or weather permitting we go outside to the playground. Kids Care offers piano lessons as an additional activity available after school. Children are encouraged to do their homework. Staff support is provided by Dowling Catholic and other local high school students.
Early Childhood Extension children will have age-appropriate activities including pro-social and early learning lessons, large motor and crafts daily. Teachers have an education in comprehensive childcare, early childhood development and appropriate practices as well as curriculum-specific training and certification.
All Kids Care staff have certified training (First Aid, CPR, Universal Precautions and Mandatory Child Abuse reporting). All Kids Care staff are required to maintain qualifications with annual continuing training hours.
Kids Care is open on most "no school" days. On those days, we often take field trips to local and engaging, kid-friendly places.
We offer an AMAZING summer camp for children 3 years old through 6th grade! We take field trips and have engaging enrichment activities weekly. We offer and transport to swim lessons the first part of the summer. All summer long we visit various pools in the area.
If you have questions or want to learn more about our programming, contact Heather Gunson, Kids Care Director, at 515-457-7167, ext. 314. We would love to have your child part of the Kids Care program!
*St. Francis Kids Care is an extension of St. Francis of Assisi School. All School policies and procedures will be followed.
---
Now Hiring: Part-Time Assistant Teacher
St. Francis of Assisi Kids Care Early Childhood provides care for St. Francis Preschool students when they do not have class. The program is for children from 2 3/4 – 5 years old. We provide a fun and loving atmosphere for the students of St. Francis, and we're currently seeking a part-time Assistant Teacher.
Wrap Around Assistant Teacher duties:
Supervise and monitor children; assist the lead teacher; clean and sanitize daily; and cultivate positive relationships with families, director, and other teachers.
Assistant Teacher qualities:
Creative; passion for Early Childhood; communication skills; and patience and flexibility.
Skills, education, and experience:
At least 18 years old; at least one year experience in childcare; excellent organizational, verbal, listening, and communications skills required; Virtus, CPR and First Aid certifications, or willingness to obtain; and must be able to lift a minimum of 40 pounds and work indoors or outdoors.
To apply, submit your resume to Kids Care Director, Heather Gunson. She can also be reached at 515-457-7167, ext. 314.
---
Helpful Links