Arm of St. Jude the Apostle Relic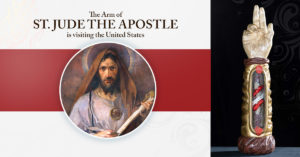 ---
We are pleased to announce that St. Francis of Assisi has been chosen as a stop on the three-year world tour of St. Jude's relics. St. Jude is known as the Apostle of the Impossible and is revered for his unwavering dedication and steadfast faith. Millions have experience his intercession in times of adversity and need. Father Carlos Martins will have the relic set up in the Church. This is your opportunity to venerate the largest relic of an Apostle outside of Europe!
Veneration Schedule
Tuesday, September 26
Veneration Begins at 1 p.m.
Mass in honor of St. Jude begins at 7 p.m.
Veneration Ends at 10 p.m.
St. Francis of Assisi Catholic Church
7075 Ashworth Road, West Des Moines, IA 50266
---
Volunteers
Updated 9/18/23 – We are still in need of 100+ volunteers to make this event happen. Please, please sign up here.
---
Why Venerate the Relics of St. Jude?
Relics are physical objects that have a direct association with the saints or Our Lord. First class relics are the body or fragments of the body of a saint, such as pieces of bone. The relic of St. Jude that will be visiting our parish is a fragment of the saint's forearm.
Scripture teaches that God acts through relics, especially in terms of healing (see, for example, 2 Kings 13:20-21; Sirach 48:13-14; Matthew 9:20-22; Mark 6:56; Acts 5:12-15; and Acts 19:11-12). In each of the cited instances God has brought about a healing using a material object. The vehicle for the healing was the touching of that object. It is very important to note, however, that the cause of the healing is God; the relics are means through which He acts.
Relics are not magic. They do not contain a power that is their own; a power separate from God.  Any good that comes about through a relic is God's doing but the fact that God chooses to use the relics of saints to work healing and miracles tells us that He wants to draw our attention to the saints as "models and intercessors."
St. Jude has a reputation in the Catholic Church as a powerful intercessor. In fact, his reputation is so great that he has been called the Patron Saint of Impossible Causes. We invite you to personally experience St. Jude's powerful intercession and bring your hopeless situations to him in prayer.
For more information see the official tour website: https://apostleoftheimpossible.com/
---
Directions and Parking
Our parking lot will be closed to visitors until 12:30pm the day of the event. Please do not arrive any earlier than 12:30 p.m. This is necessary to allow dismissal for the nearly 700 students that attend our parochial school. Arriving any earlier will interfere with dismissal.
We are expecting large crowds of people on the day of the event. To facilitate the traffic, entrance to the St. Francis campus will be available only to westbound traffic on Ashworth Road. West Des Moines Police will be on-site to enforce this.
If you are traveling from I-80:
Exit southbound onto Jordan Creek Parkway

Turn left onto Vista Drive

Turn right onto 60th Street

Turn right onto Ashworth Road
If you are traveling from I-35 North:
Exit westbound onto Mills Civic Parkway

Turn right onto 60th Street

Turn left onto Ashworth Road
Additional overflow parking will be available in the business lots just west of St. Francis as well as at Lutheran Church of Hope. Shuttles will be available to assist those in overflow parking who cannot make the walk. Please see the map below for overflow parking locations. Parking at Sierra Pointe apartments (north of St. Francis) and along Woodland Avenue is strictly prohibited. St. Francis is located in a residential area and we want to be a good neighbor to those who live nearby.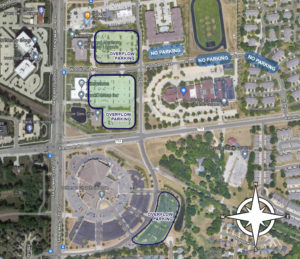 ---
Getting in Line
The main entrance to venerate the relic will be on the north side of the Church with the line extending west outside. The south entrance is available for the handicapped and infirm only. Much of the line will extend along the exterior of the Church. Please be prepared to be outside for most of your time in line. There is an indoor rain location for the line in case of inclement weather. Portable restrooms will also be available outside.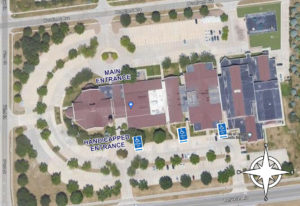 ---
Handicap Access
There will be abundant handicap parking available close to the Church and the south circle drive will also be available for drop-off for the handicapped and infirm. Those who cannot stand in line due to health reasons are asked to enter through the south doors of the Gathering Space (see the map above). Special accommodations will be in place to allow the handicapped and infirm immediate access to venerate the relic. In other words, little to no waiting will be required for those who cannot stand in a line due to health reasons.
---
Venerating the Relic
To accommodate the large crowds of people, the time allotted for individual veneration of the relic of St. Jude will be brief, no longer than 10 seconds. No kneeling in front of the relic will be allowed in order to grant as many people as possible access through the line in a timely manner. We ask that you pray while waiting in line to venerate the relic and that you have any items that you would like to touch to the relic out and available before your turn arrives. Ushers will kindly but firmly keep the line moving. We ask that you respect their instructions.
---
Busses
Bus drop-off will be available on the northbound side of 72nd Street. Please follow the above mentioned flow of traffic westbound on Ashworth Road but do not turn into the St. Francis parking lot. Instead pass the parking lot and make an immediate right at the light onto 72nd Street. Buses should stop beyond (north of) the entrance to the St. Francis parking lot on 72nd Street and there allow passengers to exit.
We have received permission to park buses at the Wells Fargo building located at 7000 Vista Drive. Bus parking can be reached by continuing north on 72nd Street after dropping off passengers, turning right onto Office Plaza Drive (see the map below). Pick-up of passengers should be conducted in the opposite manner, i.e., head south on 72nd Street stopping on the southbound side of 72nd Street near St. Francis to collect passengers.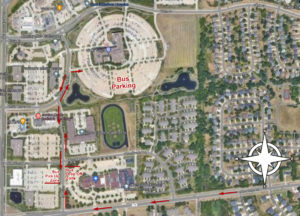 ---
Places to Stay and Eat
St. Francis of Assisi Catholic Church is located one mile away from several hotels, including West Des Moines Marriott, Sonesta Simply Suites, Fairfield Inn and Suites, Hampton Inn and Staybridge Suites. It is also located near a Culver's, Jimmy John's, Ruth's Cris Steakhouse, Perkins, Starbucks and Giordano's. Jordan Creek Mall is also within two miles where there are several shops and places to eat as well.
---