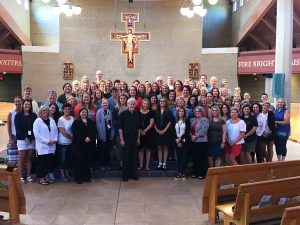 Job Openings
Parish
Newcomer, Volunteer & Nursery Coordinator
For more information on this position, please contact Paula Courter, Director of Operations.
---
School
Substitute Teachers
If you are a teacher, or have a substitute license, and would like to start subbing at our school, please call the School Office at 515-457-7167 or stop by for an application.
Preschool
St. Francis Preschool is seeking two part-time associates starting with the 2020-2021 school year. Positions are Mondays and Tuesdays, or Wednesdays and Thursdays – both from 8 a.m. – 3:15 p.m. Click here for more information.
Lunch Room
St. Francis School Lunch Room currently has a part-time job opening two days a week! Hours are 8 a.m. – 2 p.m. Responsibilities include fruit and salad prep, serving, and general duties. Training is provided. Our work environment is team-oriented, fun, and flexible. If you're looking for a part-time job during school hours, this is the perfect opportunity! Contact Cheryl Riedl to apply or for more information.