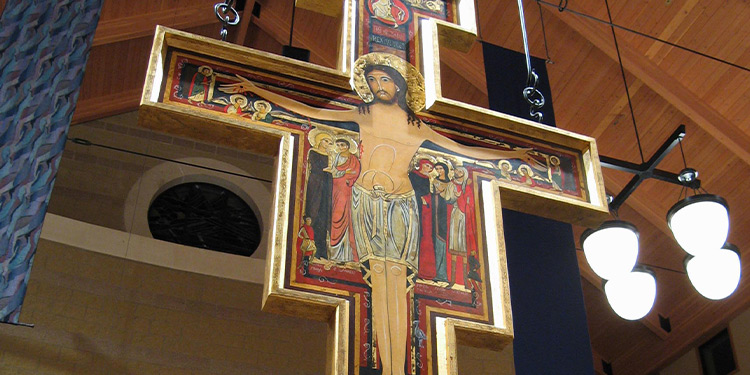 As we continue to grow in our faith and share our gifts, we welcome you to join us in celebrating the love of Jesus Christ. Our Prayer programs and groups offer a heart-to-heart with God. Explore the links below for more information.
Worship Resources
We have prepared resources for people to use if they must stay home from Mass. We hope you'll find these useful.
Worship Aid, 26th Sunday in Ordinary Time – September 26, 2021
The Divine Mercy Chaplet Prayer Resource
Home and Travel Worship Resource
Children's Liturgy of the Word Materials
---
Recorded Liturgies
We livestream our 9:30 a.m. Sunday Mass to YouTube. Recordings stay posted to the channel – along with other faith-filled resources.
St. Francis of Assisi Catholic Church WDM YouTube Channel
---
---
Adoration
Eucharistic Adoration is an extension of the holy Mass, where Christ's sons and daughters have the opportunity to behold the Eucharistic face of Christ. We invite everyone to spend some time with our Eucharistic Lord every 2nd and 4th Tuesday of the month. Adoration takes place from 8 a.m. – 8 p.m. (with simple reposition during Noon Mass).
---
Children's Liturgy of the Word
Children's Liturgy of the Word is an opportunity for children to leave the main church assembly during the Liturgy of the Word portion of Mass and listen to a specially formatted children's version. This allows children to hear and reflect on the readings at an age-appropriate level, giving them a better understanding of the Word.
---
Liturgical Ministry
Liturgy is the work of the people and a central act of the faith community. Through liturgy, the people have an opportunity to share their gifts at the service of the community to assist worship both in the congregation and in a specific liturgical role.
---
Men's Faith Sharing
Men's Faith Sharing groups discuss the Sunday readings and hear and share faith stories.
---
Music Ministry
The St. Francis Music Ministry witnesses the love of Christ with music and is open to any parishioner who has a love for music. The parish boasts many groups, both vocal and instrumental, which gives parishioners opportunities to share their gifts of music.
---
Other Prayer Opportunities
Take part in our bulk subscription to the Magnificat or participate in other prayer opportunities that might be offered throughout the year.
---
Rosary
The Rosary offers our members a chance to learn and pray with other members.
---
Sacraments
Explore information about the seven sacraments of the Catholic Church here at St. Francis.
---
Women's Faith Sharing
Based on the Ignatian prayer reflection process and the examen, this weekly meets Mondays.