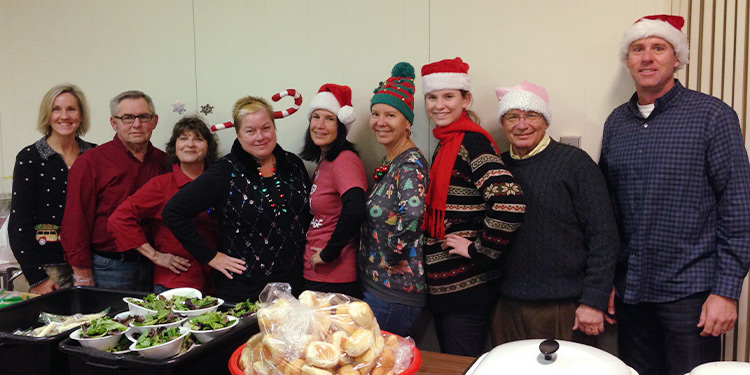 The Homeless and Hungry Committee at St. Francis of Assisi parish offers parishioners the opportunity to assist homeless and hungry people in the greater Des Moines area.
This committee feeds the hungry at 3 different shelters on a monthly basis. We provide dinner for approximately 30 people the 2nd Saturday of each month at St. Joseph's Family Emergency Shelter. We also feed the hungry at Central Iowa Shelter & Services on the 9th and 10th of each month and lastly, we provide and serve lunch for over 100 homeless and working poor at the Connection Café the 3rd Wednesday of each month in downtown Des Moines.
Annual projects throughout the year include:
Coat Drive in November
Angel tree in December
Lenten Crosses in March/April
---
Thanksgiving Baskets
Share the gift of a no-bake Thanksgiving meal with families in need this November!
We are once again asking you to shop for non-perishable items to complete a Thanksgiving basket, including a gift card to Hy-Vee to cover any perishable goods (turkey, ham, milk, etc.).
Sign-ups to provide a Thanksgiving meal will begin November 6/7 and November 13/14 in the Parish Hall after Masses.
Alternately, you can sign up online at the following link: https://signup.com/go/hwLfoMd
---
The Kids Against Hunger Committee
St. Francis of Assisi parish offers parishioners the opportunity to help fight national and global hunger. You can volunteer your time to package and distribute food for disadvantaged countries. Look for opportunities to help this year by participating in our Advent Angel Trees, Lent Crosses and other planned packaging events at the Kids Against Hunger site. This is a great service project for the whole family.
To learn more visit www.kidsagainsthungerdsm.org.